Roblox Gift Cards can only be redeemed in a browser at

Roblox.com/redeem

- they can't be redeemed in the Roblox mobile app or any video game console.
You can only redeem Gift Cards that are for the same currency as the country where your Roblox account is registered - for example, if your Roblox account country is set to Italy, you can only redeem Gift Cards in Euros.
Roblox Gift Cards come in two types:

Credit - Real money value for buying Robux or Roblox Premium Memberships. You buy credit

here

.
Robux - Virtual currency added to the account balance - only available at the Roblox Store on

Amazon.com
Redeem a Gift Card on Your Account
Go to

Roblox.com/redeem

from your browser.

Log in or create an account.

Find your PIN / Code and enter it in the white box on the website.

Click Redeem.

A success message will appear when you successfully add the Credit to your account.



Sometimes letters can look like numbers and numbers can look like letters. For example, the zero (0) in your Gift Card may actually be an "O". Below are the common substitutions to try if you are having trouble redeeming your Gift Card.
0 (zero) - O

1 (one) - I (capital i)

2 (two) - Z

5 (five) - S

6 (six) - G / Q

8 (eight) - B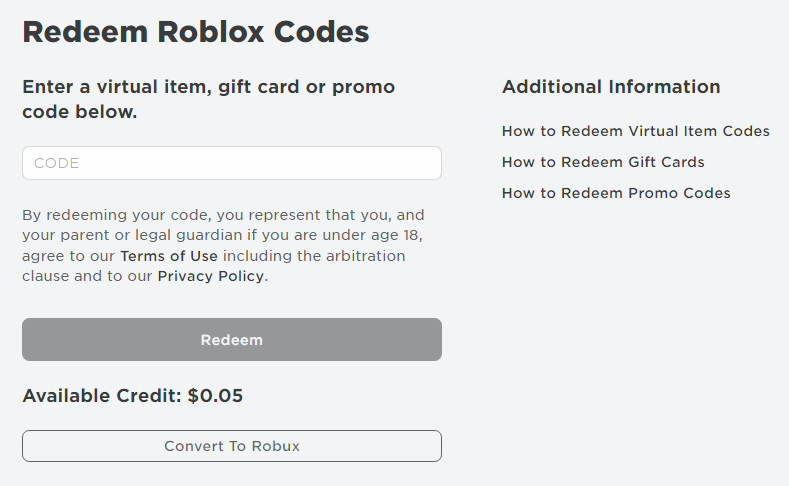 Confirming Your Balance
Spend Your Roblox Credit
Roblox Credit can be used to purchase a Roblox Premium Membership or Robux if you have enough Roblox Credit in your account. You can convert your Roblox Credit in 3 places:
Select the product you want to buy.
Click Buy.
Confirmation will appear.
If you have remaining Roblox Credit, it will ask if you would like to purchase more Robux (if you have enough in your account).


Clicking Buy will convert your remaining Roblox Credit to Robux
Clicking Cancel will keep your Roblox Credit in your account until you are ready to spend it.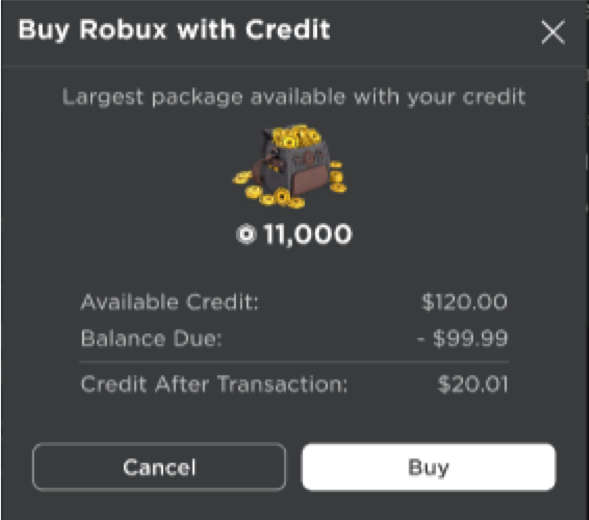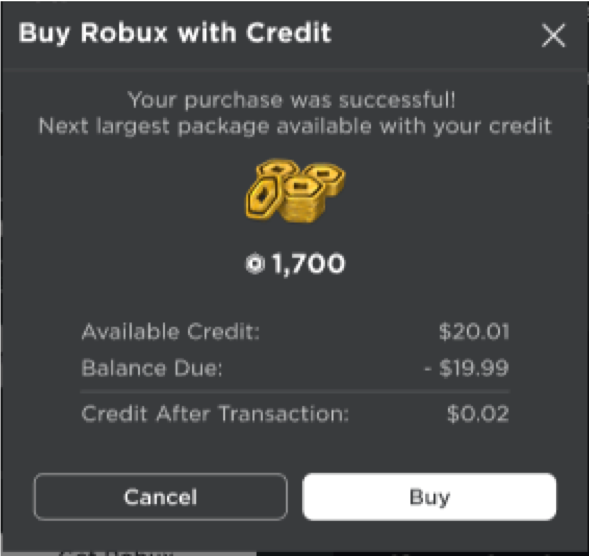 Issues with Redeeming Gift Cards
If you have any issues with redeeming Gift Cards, contact us and provide us the additional information below.
Additional information:
Username(s)
Purchase date and amount
Place of purchase and city
Gift Card PIN
Gift Card Serial Number
Image of the purchase receipt
Image of the front and back of the gift card or full image of the e-gift card
Image of any error messages received while redeeming (if applicable)
Note: Please ensure any provided images are in .jpg or .png format only
Additional Help
Purchasing with Roblox Gift Card Credit