Here at Roblox we encourage all of our users to help us maintain an environment that is both safe and fun for everyone. However, we know that sometimes plays may not follow all of the Roblox Community Rules. When you see someone breaking the rules in a game, you can report the incident and even block another account from chatting with you as well. 
Reporting abuse in-game
When you use the Report Abuse feature in a game to report the specific chat or other content that violates Roblox rules, this will send the information directly to our moderators and allow them to see what the other player is doing wrong. The following steps will walk you through reporting another user: 
1. Click on Menu button, located at the upper left of the screen. This icon looks like three lines stacked on top of each other.

2. Click the flag icon located next to a player's name, or click the Report tab at the top of the menu.  
3. If not already selected, click on the Which Player pull-down menu, and select which player to report.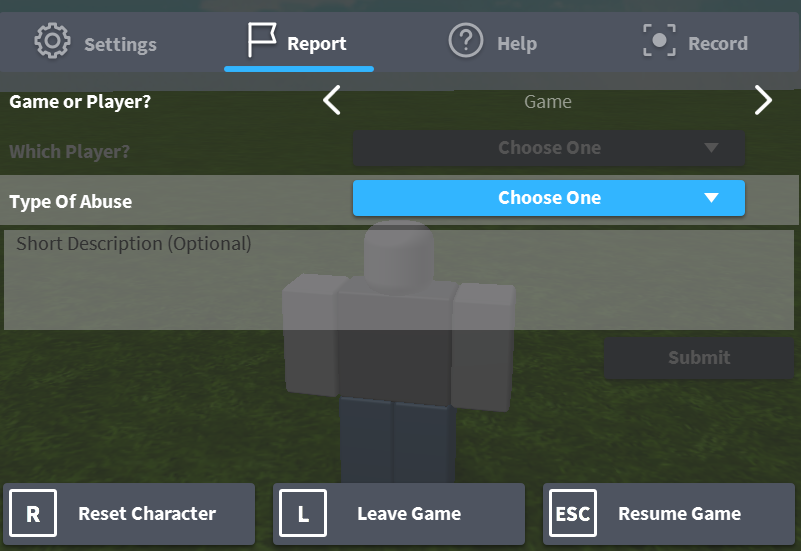 4. Click on the Type of Abuse pull-down menu, to select the inappropriate action.
5. Additional details can be written in the Short Description box.
6. Click Submit to finalize.
If a game itself is breaking the rules, you can also report this while playing that game. Open the Report tab as described in Step 2 above, then choose Game instead of Player to complete the report form.
Note: If you are playing on an Xbox, you may have fewer overall options when opening the Game Menu, but the Report tab will still appear for reporting abuse as described above. 
Blocking users in-game
While it is definitely good to report any rule violations to our moderators, sometimes you may wish to keep certain users from being able to talk to you at all. This can be accomplished by blocking them. To block another player from inside a game follow the steps below: 
1. Find the user inside of the leaderboard/player list on the upper-right of the game screen. It will look like this: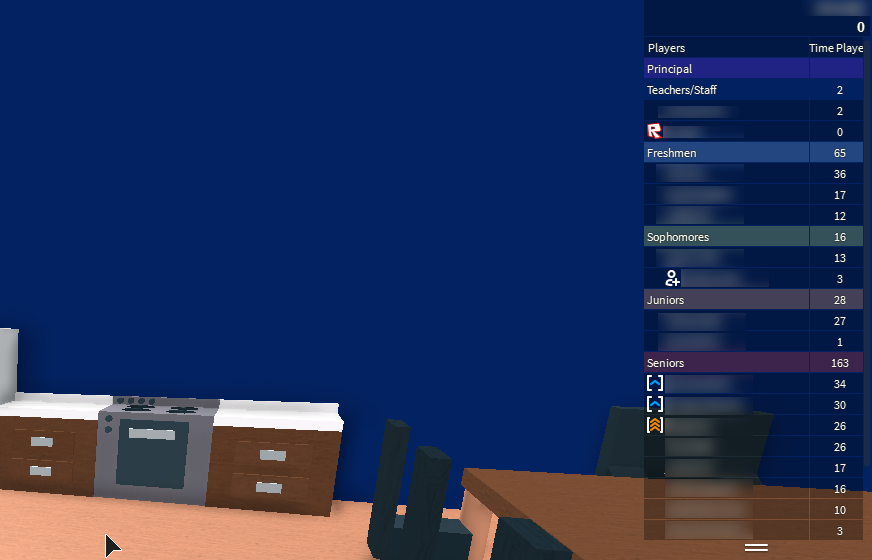 2. If this list is not visible, it is likely just closed. To reopen it, click your username in the upper-right corner.
3. Once you have found the name of the user you wish to block inside of the leaderboard, click on it and a menu will open up.
4. Select Block User. You can also choose to Unblock them or Report Abuse directly from this menu as well.
Once you have blocked the user, the icon to the left of their name will turn into a circle with a line through it to indicate they have been blocked.
How to disable in-game chat
If you would like to completely turn off in-game chat, you can do so by following these steps: 
Log into your account
Go to your Account Settings page by clicking on the gear-icon, located in the upper right corner of the page followed by Settings. Alternatively, you can click here
Click on the Privacy tab and under Who can chat with me in game?, select No one
Additional Help