Roblox is committed to fostering the business and revenue growth of our influencers in the Video Stars program. The Star code makes it easy to support your favorite Video Stars at no additional cost to you.
What is the Roblox Star Code?
The Roblox Star Code is a special code that you can get from a member of the Roblox Video Stars Program. When you use a Star Code to support a Video Star, they will automatically earn 5% of the Robux purchase you make on the Roblox website. You will still receive the full amount of Robux you paid for, with the added bonus of knowing that you've contributed to your favorite Video Star!
Note: Roblox Star Codes can only be applied to purchases on the Roblox website and are not available through the App.
How to use the Star Code
Enter the Star code associated with your favorite Roblox Video Star on the Robux purchase page while completing a transaction. Video Stars will be promoting their Star codes on their Roblox profile or group pages, as well as their social media accounts, including YouTube, Twitter, and more!

Head to the Robux or Membership and select the value you want to purchase. You will then be redirected to the payment method selection page: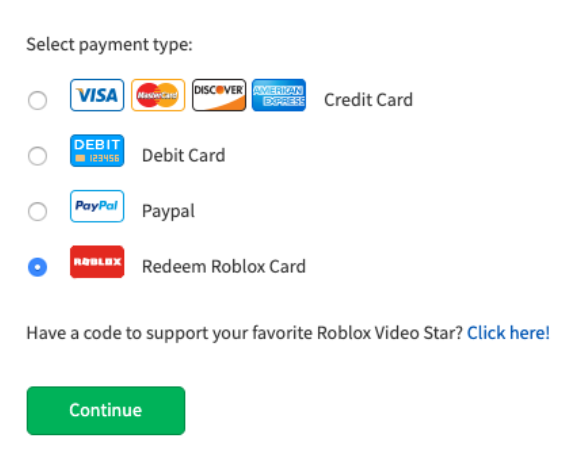 Have your favorite Roblox Video Star code handy, and press Click here! to open the code entry window. Enter your code, and press Validate: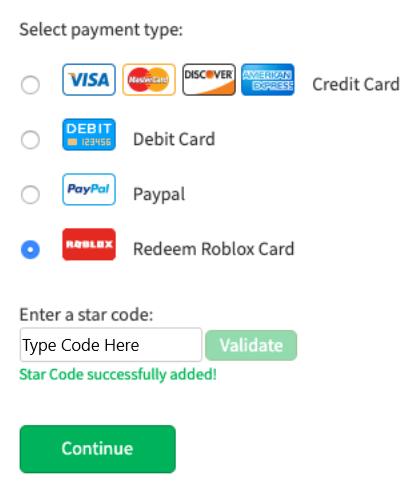 Once you have validated your code, you will need to complete your purchase before the code expires in 10 minutes. After you have finished your purchase, you will see a confirmation for you payment.
Additional Help
How to Redeem and Use Game Cards Codes Help Article
How to a Redeem Toy Code Help Article