Some features described below may not be available to all users.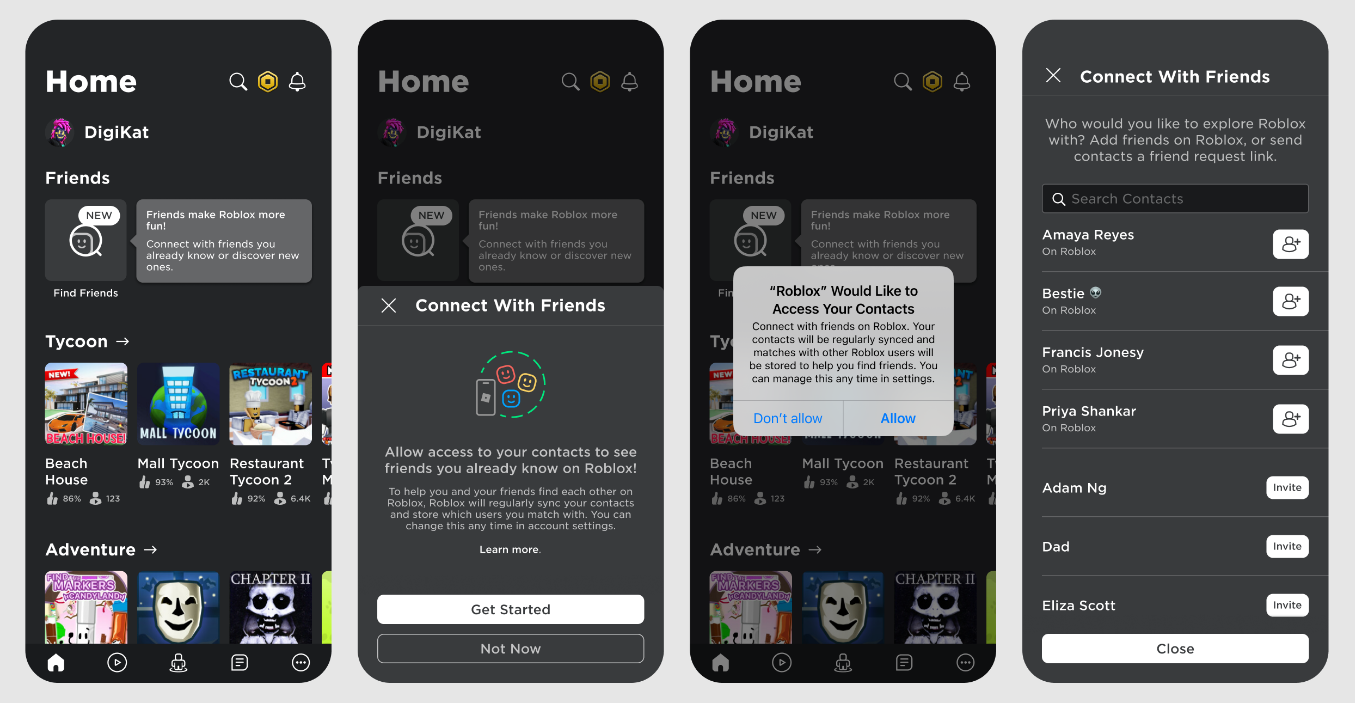 Letting Friends Find You on Roblox
Why are you asking for permission to share contacts?
Roblox is introducing Contact Importer, a feature that will allow users who know your phone number to more easily find and connect with you on Roblox. We want to ensure your privacy by requesting your permission to use contacts stored on your device to find other users you may know on Roblox.
How will my phone number be used?
If you allow friends to find you, users with your phone number will see you as a friend recommendation. They will also be able to see your contact name as stored on their device, which is not verified (i.e., if you have a contact in your device named "Bestie," that is how that person will appear when you use Contact Importer). This contact name may be your real first and last name if this is what is saved on a person's device. Roblox will only use your phone number for the purposes for which you consent. For more information on the benefits of phone verification, please see here.
How do I opt in to being discoverable?
You can opt in to being discoverable only after you verify your phone number. You will have the option to provide consent immediately after you verify your phone number, or you can opt in under Settings -> Privacy at any time.
How can I turn off this feature later?
You can opt out of being discoverable to others by your phone number at any time by going to Settings -> Privacy within your account.
What about my privacy? Who can see my phone number?
Roblox users will not be able to see your phone number. Roblox does not share your phone number and contacts with third parties.
What will users who have my phone number in their contacts be able to see?
If you consent, a user who has your phone number in their device contacts will see your contact name on Roblox–for example, as a friend recommendation, a friend request, or your profile.
How are you protecting my safety and privacy with Contact Importer?
To ensure privacy and safety, you can choose whether or not others can find you on Roblox with your phone number. As another safety and privacy measure, you have the ability to decline or accept a friend invite before someone connects with you on Roblox.
Importing Contacts and Connecting with Friends
How do I find people I know on Roblox?
There are multiple ways to find people on Roblox: for example, you can search for their username or you can connect with your real life friends by uploading your contacts from your device and matching the contacts with other users on Roblox that have opted into the feature. To connect contacts, go to Add Friends → Connect with Friends. If you connect contacts, we may suggest discoverable users on Roblox that are in your contacts. You will also see the option to send friend invites to contacts. When you share a friend invite with someone, they will be able to add you as a friend on Roblox, so only share friend invites with contacts that you trust. Contact names will be shown as they appear on your phone on friend's profiles so you can identify your friends.
When I add someone as a friend, what will the other user see?
Any friend requests you send will come from your Roblox profile. If you've set your phone number to be discoverable and you are in their device's contacts, your name as it appears in their contacts may be shown along with your profile to help your friends know the friend request is coming from you.
What data will Roblox store when I import contacts? How can I delete this data?
When you upload your contacts, we store contact names as stored in your device to make it easier to make future friend connections. We do not store phone numbers or email addresses of people in your contact book. At any point, you can delete contact data under Settings → Privacy.
How do I disconnect contact syncing?
To stop syncing your contact list, you can toggle this feature off at any time under Settings → Privacy. When opted out, you will no longer see friend recommendations based on your contacts.
If you've synced contact data on multiple devices, you must do this separately per device or go to your privacy settings on a desktop web browser to delete all synced data at once. Friends added using Contact Importer will still be connected with you on Roblox.