Roblox is continuously looking for ways to improve your experience, but crashes can sometimes slip through, which we understand is very frustrating. When your device is running out of memory, we want to give you the opportunity to safely exit the experience.
What is an Out of Memory crash?
When your device runs low on memory (this is not a storage space issue), there's a higher chance that you could crash unexpectedly. This Out of Memory crash often happens when there are too many applications running in the background or your device isn't powerful enough to handle the experience you're in.
What is the Low Memory Warning (Error Code: 292)?
When your device is running low on memory we will display a warning. This gives you the option to:
Leave - You will leave the experience and return to the Roblox home page.
Keep Playing - You can continue the experience but might crash soon!
We recommended that you exit the experience as soon as possible. This will ensure your state is saved and avatar is in a favorable position before you exit. After exiting, you can re-enter the same experience in a more stable state or try a new experience!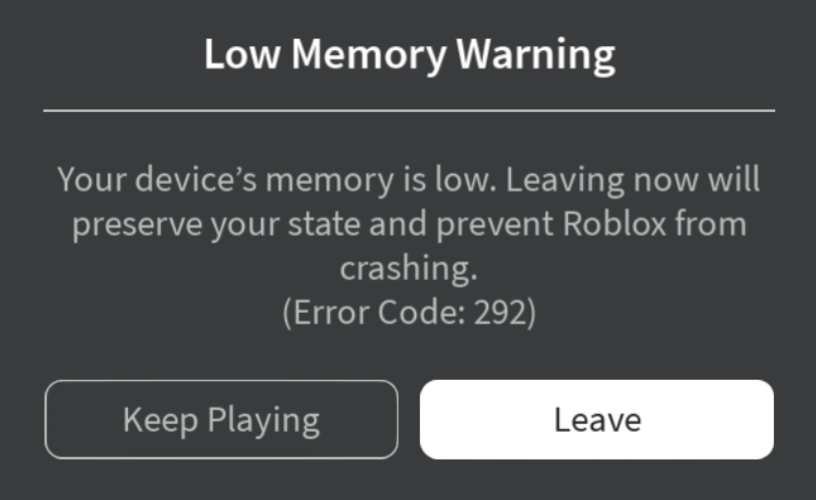 What can I do if this happens frequently?
If you are experiencing low memory warnings often, you can try the following methods:
Close unused applications running in the background
Reduce the graphics quality (check out our help article on Graphics Quality for more information)
Choose a less graphics intensive experience
Use a more powerful device with more memory (RAM)
Additional Help